Madden 22 Is Removing Raiders Coach Jon Gruden After Email Comments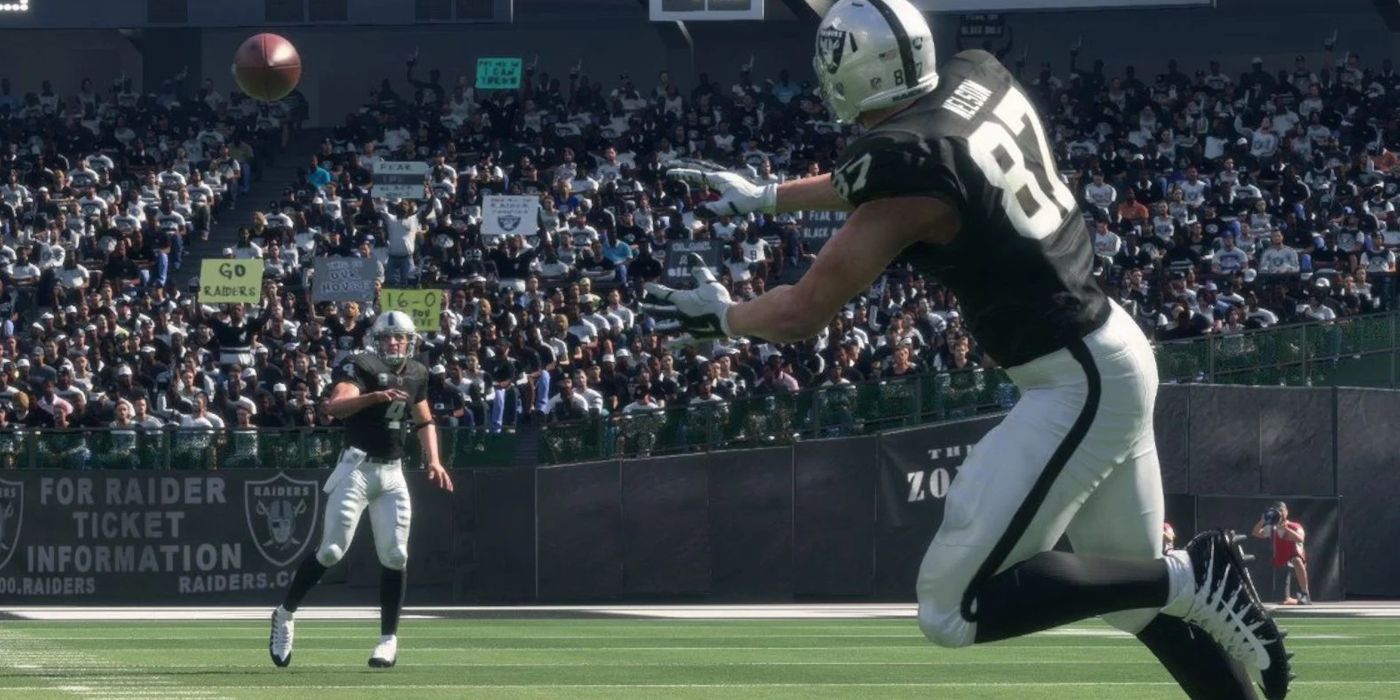 Recently retired Las Vegas Raiders coach Jon Gruden will be removed from Madden NFL 22 after hateful emails surfaced, with EA Sports announcing a near-future update will replace him in-game. The annual sports title launched in August and brought a number of improvements, with the majority of changes coming to the new-gen console versions of Madden 22. This included more realistic in-stadium atmospheres and better AI functionality through NFL Next Gen Stats, and the new Madden also customarily updated the current league player and coach rosters.
Perhaps the most significant improvement in Madden 22 is Dynamic Gameplay. This new system affects how the crowd reacts to situations, and spectators can even directly influence the action on the field, making home-field advantages into an actual game mechanic. For example, a loud roar might drown out a quarterback and make mistakes on the snap more likely. Players also have access to more endzone celebrations than previous entries, and there are additional broadcast packages for Madden 22 games.
On Wednesday, EA Sports revealed it will remove former Las Vegas Raiders coach Jon Gruden from Madden NFL 22 following offensive emails publicly surfacing. Gruden will be replaced with a "generic likeness" in a title update schedule to release "in the coming weeks." Gruden and the Las Vegas Raiders announced his resignation earlier in the week, following his use of misogynistic and homophobic language in a series of emails that have come to light. According to a New York Times report, Gruden made disparaging comments in reference to female referees and a homosexual player, and he also made offensive remarks about players protests and used a homophobic slur when speaking about NFL commissioner Roger Goodell. The emails in question were sent between 2011 and 2018, and the league is also investigating other emails in which Gruden is alleged to have used a racist term when describing a player.
Prior to its promise to remove the controversial coach, EA Sports recently held the Campus Legends event in Madden 22. This introduced a series of iconic and historic college teams to the Superstar KO mode, along with a whole collection of former players. Current NFL players were also able to play on their former college teams as part of the event, which was a major draw for college football fans.
The fact that EA is removing Jon Gruden from Madden NFL 22 is not surprising. After all, the former coach has faced widespread condemnation from those inside and outside of the sport for his comments, and the publisher will not want to be associated with him. It's unfortunate the removal process won't be instant, but Gruden will soon be absent from Madden 22's virtual Las Vegas Raiders as he currently is from the real team.
Sources: EA/Twitter, Las Vegas Raiders/Twitter, New York Times